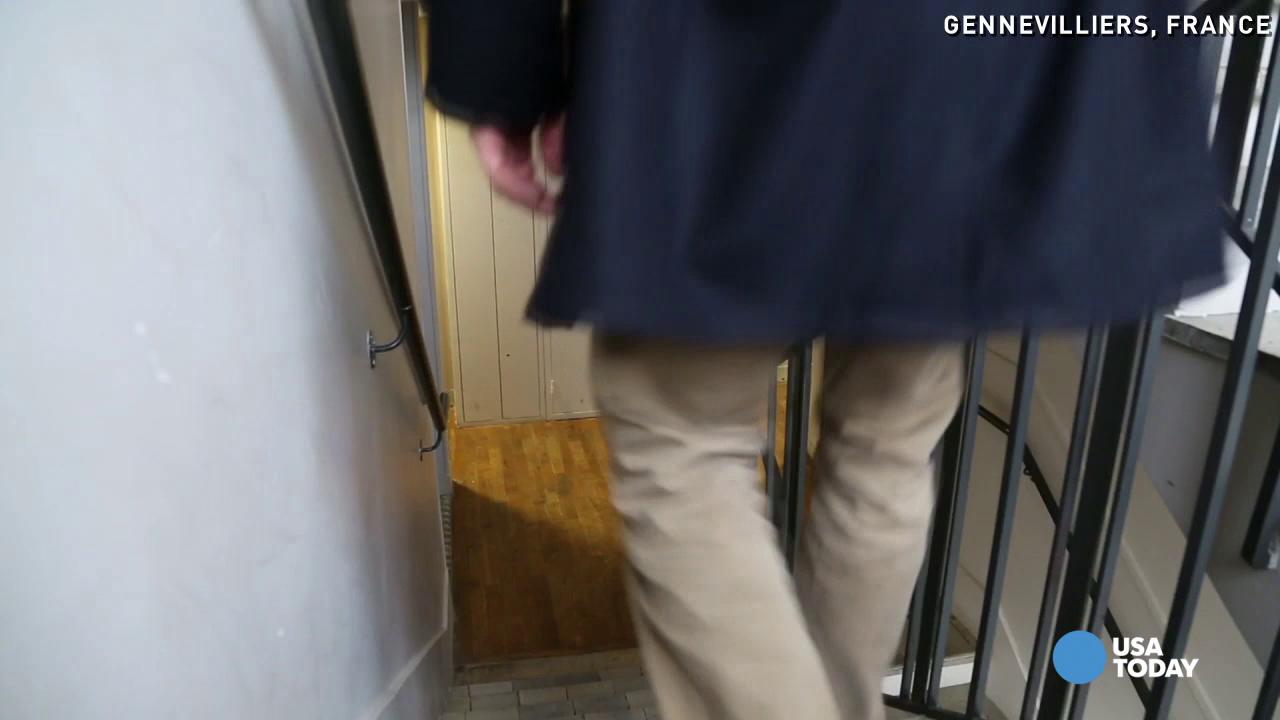 Neighbors of Cherif Kouachi, one of the Paris terror suspects, desribe the 32-year-old as a normal guy. USA TODAY's Kim Hjelmgaard takes us on a tour of Kouachi's former apartment building. VPC
Automatically Generated Transcript (may not be 100% accurate)
00:01 Okay I'm very USA today on engine Asian PGA on
00:05 the outside of Paris for actually standing. In the holy of
00:08 the building where one of the alleged Paris attack history collection
00:11 lived for a time. This area in general Rio to Paris
00:15 the circle them is synonymous in the French imagination and it
00:18 can land with. Immigration and often religious extremism to the people
00:23 will have neighbors that we've been talking to only one parent
00:26 camera have interest in him described his brother has. Just a
00:31 normal guy and there are shop police potentially involved in this
00:35 they describe someone who. Went to the mosque every day and
00:38 and they just didn't see it coming they just could not
00:41 imagine that this guy could be part of a plot. I
00:44 can't kill twelve people earlier this week.

The French female terror suspect on the run is no longer in France, according to multiple media reports citing security officials. However, when she left and whether she was even in Paris during this week's attacks is unclear.
Some French media as well as CNN and the Wall Street Journal, citing intelligence sources, are reporting Hayat Boumeddiene, 26, left for Syria as early as Jan. 2, traveling via Turkey. The information could not be independently confirmed.
Boumeddiene is wanted in connection with the Thursday shooting death of a policewoman, Clarissa Jean-Philippe, 27. A police bulletin on Friday described her as armed and dangerous.

On Friday, Paris prosecutor Francois Molins revealed Boumeddiene, the widow of slain supermarket gunman Amedy Coulibaly, exchanged 500 phone calls in 2014 with the wife of Cherif Kouachi, one of the Charlie Hebdo suspects.
Heavily armed police mounted simultaneous attacks on two hostage standoffs Friday, killing Cherif Kouachi, 32, and his brother, Said Kouachi, 34, who had holed up in a warehouse north of Paris. Just minutes later, officers stormed the kosher supermarket where Coulibaly had opened fire, killing four before taking hostages. Coulibaly was killed during the police assault.
In an interview with French broadcaster BFMTV during Friday's standoff, Coulibaly — also suspected in the policewoman's attack — claimed the assault on the officer and the Kouachi brothers' assault on French magazine Charlie Hebdo were "coordinated."
Authorities are digging for more information about the phone calls and consider Boumeddiene an "important witness" who must be questioned, said Christophe Crepin, spokesman for the UNSA police union.
"She has had a relationship with an individual whose ideology has been expressed in violence, and by the execution of poor people who were just doing their shopping in a supermarket," Crepin said. In the eyes of French officials, "she is a dangerous woman," he said.

Boumeddiene and Coulibaly wed in July 2009 in an Islamic religious ceremony — a union that is not recognized by French law. Boumeddiene, who has an Algerian background, altered her name to "make it sound more French," the Daily Mail reported.
New images emerged of the female terror suspect late Friday, with several showing her dressed in a hijab, clutching a crossbow. One has her aiming the weapon at the camera. Another photo shows her in a bikini with Coulibaly.
Boumeddiene has never been convicted of a crime, officials said. Records obtained by the Associated Press show Boumeddiene was once interrogated by French officials about her reaction to terrorist acts committed by al-Qaeda.
"I don't have any opinion," she answered, but added that innocent people were being killed by Americans and needed to be defended. She said information provided by the media was suspect.
The Daily Mail reported that during the interrogation Boumeddiene said she was inspired by her husband and Islamic radicals she knew to "read a lot of books on religion and, because of this, I came to ask questions on religion."
"When I saw the massacre of the innocents in Palestine, in Iraq, in Chetchna, in Afghanistan or anywhere the Americans sent their bombers, all that … well, who are the terrorists?"
Contributing: The Associated Press
Read or Share this story: http://usat.ly/1IAzmBo